Link with 7 notes
Remember Lindsey's gorgeous casebound limited edition? We just posted the last eleven copies over at BigCartel! If you want one, click fast—based on how quickly the rest went at the release party, we don't expect these to be up for long.
Post with 1 note
Edited with updated poster info. (8/5/12)
ARE YOU STILL ACCEPTING SUBMISSIONS?
No.
I CAN'T BELIEVE I MISSED THIS! ARE YOU GOING TO DO A SECOND VOLUME OR AN EXPANDED EDITION?
It's reasonably likely, but even if so, it won't be for a while. If we do, you'll hear about it here first.
WHAT'S THE DEAL WITH THOSE PLAID HARDCOVERS? HOW CAN I GET ONE?
The plaid hardcovers were a limited edition of 24; there are 10 or 11 left. We will be posting them on BigCartel in the next few days. They'll be $15, plus shipping. You cannot reserve them in advance, and they will not be available wholesale.
WHAT'S THE DEAL WITH THOSE POSTERS? HOW CAN I GET ONE?
The posters were a giveaway at the release party. Lindsey, who made them, has some extras, which you can purchase over at etsy.
IS IT TRUE THAT THE ZINE IS SOLD OUT?
Yes, and no. We've sold through the first printing, but our print shop is local, so we'll have the second printing in hand before we're caught up on shipping the first.
I'M A RETAILER. DO YOU DO WHOLESALE?
Yeah. Shoot us an e-mail at peteandpetezine@gmail.com. We're about to set the second print run, so now's a really good time to get in touch.
WHERE WILL YOU BE DONATING THE THEORETICAL PROFITS, AGAIN?
VH1 Save the Music Foundation.
I REALLY LIKE THE COVER / CENTERFOLD / ANOTHER PIECE OF ART. ARE YOU GOING TO SELL PRINTS?
No, but the artists might!
ARE THERE GOING TO BE ANY OTHER SPECIAL / LIMITED EDITIONS?
Only if contributors decide to make and sell them.
CAN I BUY A COPY AT MY LOCAL COMICS / ZINE SHOP?
Right now, the only comics shop that we know carries Waiting for October is Bridge City Comics, in Portland, OR. Your local comics / zine shop is welcome to contact us about ordering copies, though. See above re: wholesale
CAN I BUY A COPY AT MY FAVORITE CONVENTION?
We—that is, Miles and Rachel—probably won't be selling Waiting for October at conventions (we both work at a publisher, so when we're at shows, we're usually representing them) but contributors might. (And contributors, if you let us know what shows you'll be at, we'll post that info here so readers'll know where to find you!)
WILL YOU BE AT THE LA REUNION SHOW?
It's possible but extremely unlikely.
Link with 8 notes
Oh, wow! Our first official review, from the Portland Mercury! And the release party is a staff pick!
Waiting for October collects 53 pages of comics, prose, illustration, and—yes—even haiku. Standouts include a piece by Lindsey Clark-Ryan titled "Six Degrees of Pete: In Which I Link the Highest Paid Actors of 2011 to The Adventures of Pete & Pete," which proceeds to do exactly that; a Nightcrawlers membership card ("Sleep is for the puny"); and series of Kreb Scout Merit Badges. The tone of the entries fittingly waffles between enthusiastic homage and desperation-tinged nostalgia—Jaclyn D. Miller's comic strip, The Best Writing in Television History, culminates in Miller tearfully embracing her television set, exclaiming "I LOVE THIS SHOW SO MUCH."
Photo with 73 notes
IT LIVES!
Post with 6 notes
A printed proof of Waiting for October! It was gorgeous and even somewhat shiny! The centerfold folded out, and there were staples and everything!
It was at the print shop, and I had to give it back, so I did not lick it. I mean, in case you were wondering.
-Rachel
Post with 7 notes
[This is the first text piece from the zine we've posted, by one of the most marvelous people we've never met.
In other news, we uploaded everything to the printer today. Barring disaster, we'll have printed copies of Waiting for October in hand in about a week. Zounds! -Rachel & Miles]
.
Pete and Pete and Pete and Pete
.
Here is how we knew it was right:
The hours melted away and the minutes rolled over as we two would recount our lives, passing secrets, developing inside jokes, discovering a love before first sight.
 .
Here is how we knew it was love:
Mashed together in the back seat of a crowded car, we rang in the new year with songs at the top of all our lungs, until at last, at last alone we share a bashful kiss on the curb long after midnight has passed, even though the dog next door would not stop staring at us.
.
But here is how we knew it was destiny:
As we unpack her things, fully integrating her life into mine—into ours—each item reveals the things we carry inside us: the things that show where we come from, that inform where we would like to go. And one item, one thing in particular, showed that ultimately, despite our disparate origins, we were coming from the same place: that we found mystery in the mundane, humor in the humiliating, and small victories in the big defeats. And if you look even now, you can see them, duplicates shelved together: Pete and Pete and Pete and Pete and Pete and Pete and Pete and Pete.
 .
And here is how you will know it is us:
Hand in hand we crunch through the autumn leaves, a big one and a little one, smiling inscrutably at jokes that didn't need to be spoken aloud, eternally afflicted by that deranged happiness of two people who, despite it all, have found each other.
Link with 59 notes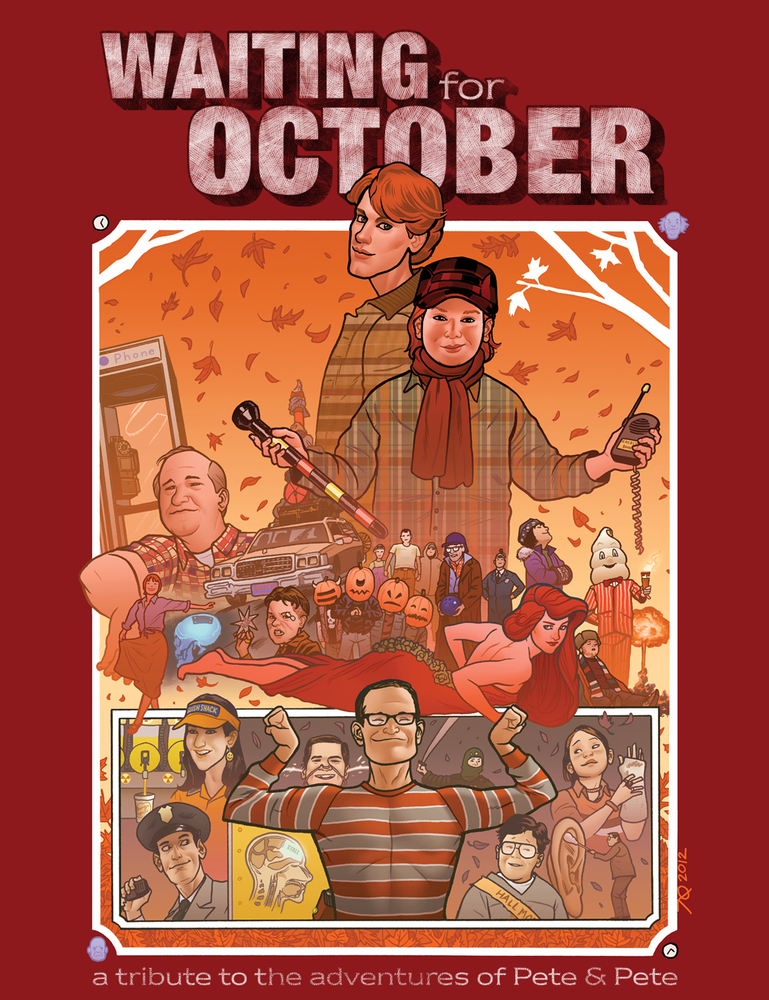 Having successfully tunneled out of the basement with the aid of our trusty Statue of Liberty scale models, we then dedicated our Independence Day to getting pre-orders up and running, which they now are! And then, because we're just that good, we added a handy link in the sidebar of the Waiting for October tumblr. (You can't see it if you're on your dashboard. Click through to admire our fine handiwork.)
Orders will begin to ship in late July!
(If you're a contributor who wants to order additional copies or a retailer with questions about wholesale ordering, please e-mail peteandpetezine@gmail.com.)
And whoever you are, please, please help spread the word, by linking here or directly to our BigCartel page.
-Miles + Rachel
Photoset with 18 notes
Everyone knows there's one person in Wellsville who knows how to do anything: Monica the Kreb Scout. She's got merit badges in everything from ethnic dance to ninjitsu—so we asked Scoutmaster Shaenon K. Garrity to draw up a set for the zine (where they'll be laid out so you can cut 'em out and affix them to your official Kreb Scout sash without damaging the rest of the book).
For now, though, here's a preview of nine of our favorites:
Astronomy - Scout can accurately identify at least six constellations.
Bowling - Scout has demonstrated mastery over the ball.
Cephalopods - Scout has demonstrated proficiency in the care and feeding of our tentacled friends.
Chemistry - Scout can use science to pinpoint the source of urine in a public swimming pool.
Funeral Arts - Scout has successfully completed courses in embalming, interment, and monument design and construction.
Lunar Ballet - Scout has demonstrated proficiency at Lunar ballet (Earth-gravity variants acceptable).
Nightcrawler - Scout has successfully stayed awake for a minimum of 24 consecutive hours.
Survival (Indoor) - Scout can survive for up to three days on the bounty of the classroom.
Time Travel - Scout has successfully traveled in time and can identify at least three sources of riboflavin.
(For Ethnic Dance, Extraterrestrial Life, Food Service, Halloweenie, Orienteering, Rooftop Gardening, Survival (Outdoor), Word Problems, Wrestling, Little Viking, Waiting for October, and the world-famous Bus Driver Service Award, you'll have to wait for the zine itself.)
Photo with 14 notes
It's not obvious from the photo, but what you're seeing on that table is the final, finished content mockup of Waiting for October.
This gives us a final page count, which, in turn, lets us estimate printing prices—which means we can get pre-orders up by the end of June and be in print by late July.
Announcements'll be coming fast and furious over the next week and change, so keep an eye out.
Meanwhile: We'd love to throw some kind of release event in Portland at the end of July or very beginning of August. If you've got any ideas or want to help, please drop us a line at peteandpetezine@gmail.com.
Cheers,
M+R
Photo reblogged from from wellsville, usa (nj) with love with 399 notes
the most epic thing i have ever

SEEN!
Hey, blowhole, either stop stripping the credits from art we post, or stop reblogging us.
(That's the cover art from Waiting for October, drawn by Joe Quinones.)
Source: petezine